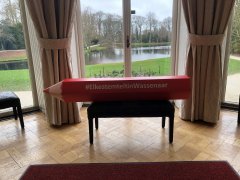 Are you ready? On the 14th,15th and 16th of March you can vote for the municipal council of Wassenaar. Your vote is important! With your vote you can influence the living circumstances in your neighbourhood. The local municipal council decides among other things on the construction sites to build houses, how to deal with the traffic in Wassenaar, places to sport, facilities to enjoy outdoor activities and subsidizes cultural programs for young and old citizens. Of course, the local council also makes decisions about current affairs, such as how we continue to invest in a green and sustainable village. The safety of your neighbourhood, or the care and support you need to stay as mobile and fit as possible in your own house, are also concerns for the municipal council. The councillors we choose together represent you for the next four years and make important decisions for an independent Wassenaar. After the elections, the council decides who becomes alderman and will have the responsibility to manage, together with the mayor, the day to day activities of the municipality. If you have further questions regarding the municipal elections you can always email us on verkiezingen@wassenaar.nl.
More information
Can I vote in the Netherlands if I also vote in my own country?

In general, you can vote in the Netherlands for the municipal elections if you are eligible to vote. The criteria to take part in the municipal election in the Netherlands is independent from your voting behaviour in your own country. The municipality does not know whether or not you have voted or will vote for elections in your own country.

If you are eligible to vote you will receive a ballot. The municipality of Wassenaar does not communicate with any other organization (not inside the Netherlands and outside the Netherlands) about who receives the ballot that entitles you to vote. Your country will not know that you are entitled to vote for the municipal elections. Next to this, the Netherlands knows the secrecy of the vote. It will not be registered if you use the ballot and vote on the 16th of march.

However, it can be possible that your own country has rules about voting in foreign countries. If this is the case, we advise you to reach out to the official authorities of your country to check the rules about voting in the Netherlands.
Where can I vote?

The municipal elections will be held on the 14th, 15th and 16th of march. The polling stations are open from 07.30 A.M. till 21.00 P.M. You can vote in any of the municipality's polling stations. 

Overview of polling stations, all are accessible for disabled persons

Monday march 14th,  open from 07.30 A.M. till 21.00 P.M.:

Raadhuis De Paauw, Raadhuislaan 22
Gemeentekantoor, Johan de Wittstraat 45

Tuesday march 15th,  open from 07.30 A.M. till 21.00 P.M.:

Raadhuis De Paauw, Raadhuislaan 22
Gemeentekantoor, Johan de Wittstraat 45

Wednesday march 16th, open from 07.30 A.M. till 21.00 P.M.:

Raadhuis De Paauw, Raadhuislaan 22
De Warenar, Kerkstraat 75
Schoolgebouw, Middelweg 33
Kinderboerderij, Rodenburglaan 80
Gemeentekantoor, Johan de Wittstraat 45
Bibliotheek, Langstraat 40
Kerk "Sion", ingang Parklaan 28
Kievietschool, Buurtweg 16
Buurtcentrum, Charlottestraat 5
Bonifaciusschool, Kloosterland 5
Buurtvereniging Oostdorp, Dr. Mansveltkade 9
ABF, International Sports Club, Ammonslaantje 1
Van Ommerenpark, Van Ommerenpark 200
Parkeerterrein De Goede Herder, Stoeplaan 4
How can I vote?

If you are eligible to vote in Wassenaar you have received a ballot (polling card). The ballot will be sent around 25th of february. The ballot shows that you are entitled to vote. You need to take this ballot with you when you go to vote, and you will also need to present a valid identity document. This can be a passport, identity card or driving licence. You can also identify yourself with a residence permit. You are under the obligation to show this to the returning officer of the polling station. For this election the document by which you identify yourself cannot be expired for more than 5 years. If you cannot identify yourself, you will not be allowed to vote.
What to do if I have lost my ballot?

Without your ballot, you will not be able to vote. It is therefore very important that you do not forget to bring your ballot with you. Should you have lost it, you can request a replacement ballot by visiting the link stempas kwijt. Or you can also send an e-mail to verkiezingen@wassenaar.nl. You can request a replacement until Friday 11 March 17.00 hrs. Should you find your 'old' ballot after all, you will not be able to use it to vote; you can only vote with the new one.
Can someone else vote for me?

If you are unable to vote in person on Election Day, you can give someone else a proxy. This person may then cast your vote on your behalf. You can fill in the name of the person (proxy) who will vote for you on the back of your ballot. The proxy can be anyone living in Wassenaar who has also received a ballot. It is important, however, that the proxy has not accepted more than two mandates and casts the proxy vote at the same time as his or her own vote. You can give a proxy up to and on the day of the vote itself. The voter who is going to vote for you must also show a valid ID for you, to the polling station's returning officer. For this election, the identity document must not have expired for more than 5 years. You can arrange this yourself and do not need to pass it by the municipality.

Applying for a written proxy

You can also request a written proxy from the Contact Centre team at Wassenaar town hall, or via the link stemmen bij volmacht. This can be done until 5pm on Friday 11 March 2022 at the latest. The authorised person will then receive the proxy and does not need to show a copy of your ID to the returning officer.
 
List of candidates

Lists of candidates for the election of the members of the Wassenaar City Council. The returning officer of the central electoral committee for the election of the members of the Wassenaar City Council; with regard to section, I 17 of the Electoral Act, announces that the following admissible lists of candidates have been submitted for the elections to be held on 16 March 2022.

Link to the websites of the political parties.

Hart voor Wassenaar (no website)